What it's like as an AWS Certification Subject Matter Expert (SME)
What is an AWS Certification SME? How can I become an SME? Why should I be an SME? This post gives an insight to my time as an AWS Certification SME for Professional and Specialty certifications.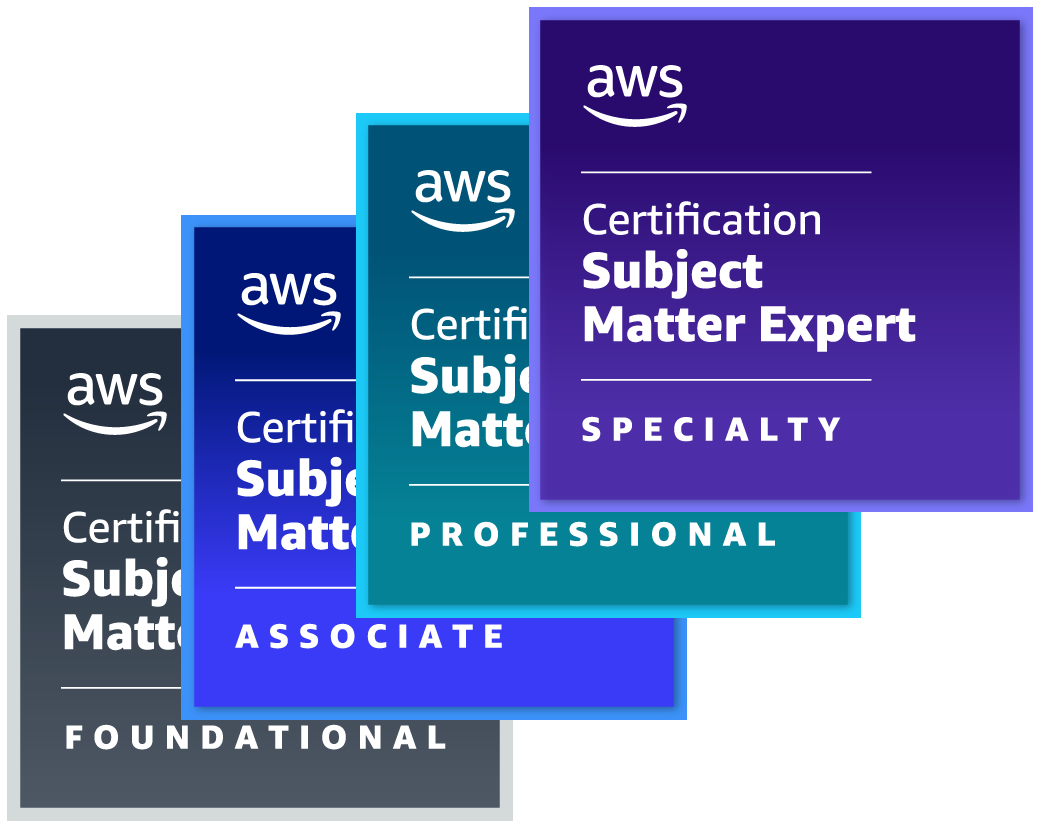 So you may have seen some of the AWS Certification SME badges on peoples profiles and asked what is an SME?, how do I become one?, and why should I become one?
The goal of this post is to give you some insight into the programme, how and why you should apply, and what I've gained from participating.
---
What is an SME?
So the first real question is what is an AWS Certification Subject Matter Expert (SME)?
The main role of an SME is to assist in the creation and validation of exam materials. This entails two types of workshops/sessions.
The first is participating in exam writing workshops for a particular exam. This is where SMEs are tasked with the creation of questions linked to the domains of the exam. This is probably the biggest piece of work and the most frequent type of workshop I have been invited to. The workshops historically have been run in person over 3 days at an AWS facility. These seem to be making a comeback so hopefully as travel restrictions relax globally there will be more of these.
During Covid-19 when restriction prevented in person events the workshops moved on line. As a result there were 2 version. One was a week workshop with daily check in and writing exams in our own time with conversations on Chime. The second version was the same time commitment/question expectation but spread over a few weeks.
I personally liked the multi-week option as it could fit around other commitments with out taking time out from work projects. In addition, it meant I could spend a little more time to craft my questions.
The second type of sessions are items reviews. Sometimes these are added to the exam writing workshops but I have been invited to separate sessions just focused on this. In these sessions you look at questions others have written and decided if they are well written and should be passed to the next stage of the process. These are interesting because you get to see questions others have written and can learn skills on how to write better questions.
---
Applying to the Programme
Pre-Requisites 📃
There is really only 1 pre-requisite to applying to the SME programme, and that is you must hold a certification in the area you want to engage in. For example, if you select that you want to participate in the machine learning curriculum, you need to hold the machine learning certification. I suspect however that if you hold a professional level certification is covers you if you want to participate in associate level events.
Training 🏫
Either before you apply, after you reply, or after select you need to take the AWS Certification Subject Matter Expert (SME) Item Writing course on skillbuilder.aws.
This course goes through what is a good exam question, both in terms of structure and level, and how to align questions to the exam criteria.
Applying 📨
The application process is simple. All you need to do is head over to the AWS Certification SME site and request an application.
The application form is straight forwards and asks you information about your AWS certifications, industry experience and what areas you would like to participate in.
For each area of interest you are then presented with an essay type question you need to answer in a few hundred words. The idea of this is to show how you have demonstrated a level of usage in your area of expertise over and above just achieving the certification.
---
So what's in it for you?
In my mind there are several reasons to apply to the programme, over an above the desire to help contribute to the certification process.
Firstly is the recognition 🏅
Its always nice to get recognition for your knowledge and I've found that the SME programme has been a great way to share and show that knowledge. I think it's one of the great things I love about the whole AWS community ethos, and that is the ability to engage in all aspects, and being recognized for that.
For me, that recognition is more than just having that badge on LinkedIn or an eMail signature. I find that it gets a conversation started about my involvement in the certification process, and if you ask people who know me I do love talking about all things AWS.
Secondly is learning 🧑‍🎓
One of the big things I have found from the workshops is not only am I writing questions and contributing to the curriculum, but I am also learning as I go along.
The first big learning experience for me is how to be more concise whilst putting over technical topics. One thing the exam aims to be is fair, and ensuring concise wording with out technical or regional jargon is one way they do this. As a result I've had to learn to write things that can be understood globally and without bias to experiences.
I am also learning new things about service and configuration I didn't know. There have been several times I have queried if a question/answer is valid and had to go and search the docs only to find it was released months ago. One of the great advantage is you are also in a room/call with lots of other SMEs who can also help explain and give examples of how they have used a service or feature.
Finally is SWAG 😁
Now, who doesn't like a bit of AWS swag?
By participating in the SME progamme you gain points for various activities such as an exam workshop. And as any fan of British gameshows will know "Points make Prizes", or in this case swag.
With a dedicated swag store you can trade in your points for a wide range of goodies. As expected, there is a large amount of SME branded merchandise such as polo-shirts, jackets, travel mugs etc, but you can also trade in for Exam Vouchers and Amazon products such as Echos and Kindles.
---
Would I recommend being an SME?
Whole heartedly.
I've found it a great experience engaging with people from both within and outside of AWS. Each one of my fellow SME's has shared with me their experiences and knowledge and that have helped me not only become a better SME but a better engineer all round.
To find out more about the application and apply head over to the AWS SME site.
---